September 23, 2014
Top Vegan Restaurant in Asheville, Plant
Posted by: Doniel Winter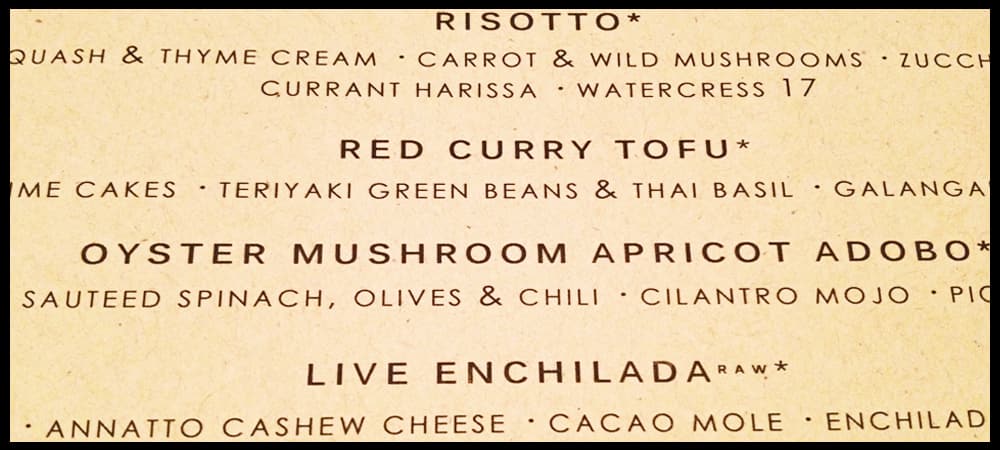 When we first arrived in Asheville some 18 years ago, The Laughing Seed in downtown Asheville was the only restaurant in town that catered to the vegetarian and vegan crowd. The food was and still is good, and as a family of mostly vegetarian/vegan/macrobiotics (I was the lone meat eater) we were happy there was even an option. Today, thankfully, there are options everywhere, and it's safe to say that every decent restaurant in town has at least one option for people that choose not to eat animal products. The best of those, in my opinion, is Plant on Merrimon Avenue, just a stones throw from the Inn.
Walnut Crusted Seitan – Applewood Smoked Porto House – Live Enchilada – all of Plant's dishes are 100% free of animal products, or 100% vegan. They are creative and delicious, so good and full of flavor that I never miss the meat and I never feel unsatisfied. Our meal started with the fried plantain appetizer with "sour cream and bacon" and a hot sauce. My favorite aspect of this dish is the balance of sweet plantains and the mushroom "bacon", which is so savory and flavorful that one could easily mistake it for some kind of smoked ham, if you didn't know better.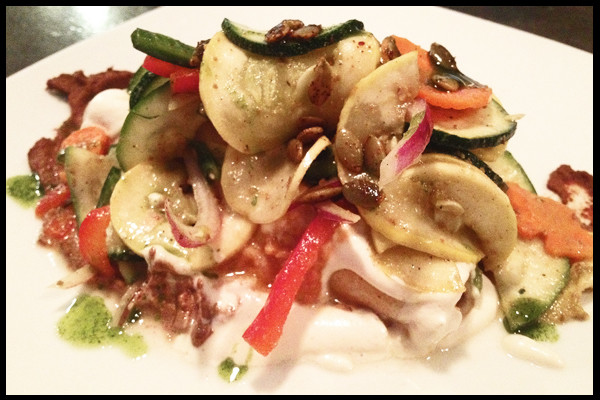 Entrees for the evening were the Applewood Smoked Porto House and the Live Enchilada. The Porto is a smoked portobello mushroom, which is as full of flavor as any smoked meat I've ever had, served over a bed of sautéed swiss chard and grilled polenta. The Live Enchilada is an interpretation of the classic Mexican dish, but with seasonal raw vegetables and a "cheese" made from cashews. The Porto was my favorite. The Live Enchilada was tasty, interesting too, but went down more like a salad or vegetable side than an entree.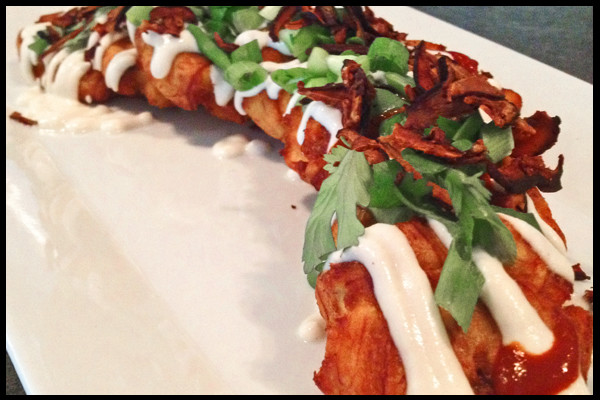 The food at Plant is fantastic, and it's prepared with a lot of integrity and purpose. As I sat at the bar I watched the owner and head chef Jason Sellers prepare different dishes in front of me, and I was surprised at how deliberate he was with his food. There was no rush, and each dish received an amount of attention that I didn't think was possible in a restaurant setting. It seemed slow at first, until I realized that the deliberateness came from integrity and attention to detail. To quote a line from one of my favorite movies, Wall Street, "Good things sometimes take time." If you're a meat eater like me, but have never considered a vegan meal, be adventurous and try something new. Have a meal at Plant. You won't regret it. Bonus: Come stay with us at Asia Bed and Breakfast Spa and you can walk to Plant in 5 minutes !!! 165 Merrimon Avenue. Dinner 5-9 Sunday-Thursday and 5-10 Friday and Saturday. Our Rating: $$ and second to none
We rate the food in Asheville with the following descriptions: 
"second to none" is the best food in town. 
"consistently good" is pleasurable food that never disappoints. 

"in a pinch" is average and you could be underwhelmed.
Cost is rated:
 $ – entrees under $12.
 $$ – entrees between $13 – $25.
 $$$ – entrees above $25.