January 14, 2015
The Green Sage – Downtown Asheville CoffeeHouse
Posted by: Doniel Winter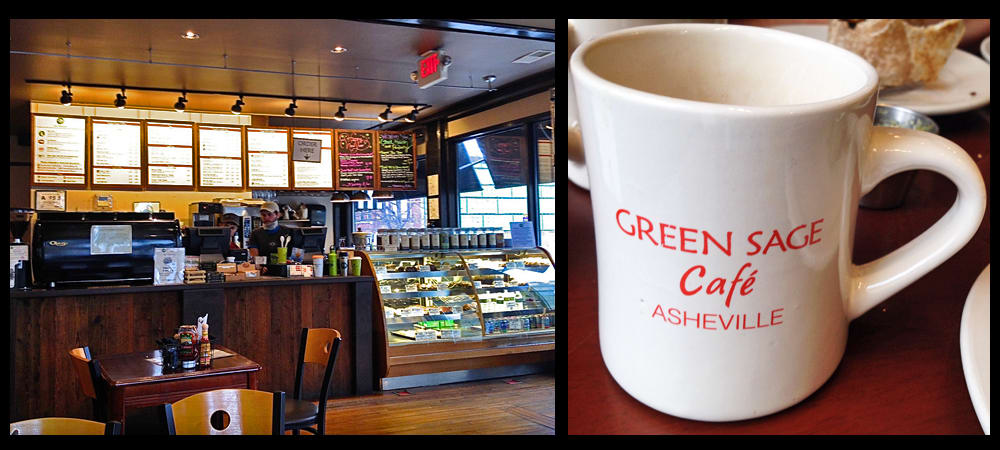 The Green Sage Coffeehouse and Cafe, on the corner of College and Broadway in downtown Asheville, has been a perennial favorite of both locals and visitors since it opened. And the fact that there are now three Asheville locations is testament to their success. There are five independent coffee houses in downtown (no Starbucks yet, thankfully), each with its own flavor. But Green Sage is the only one that I would visit not only for the coffee but the food as well.
Their mission is to bring delicious, healthy food to everyone that walks through their doors, with a focus on organic, natural and locally sourced ingredients.
It is a large and open space, with windows on 2 sides, making it one of the most pleasant, well lit locations in downtown to spend a couple hours eating, drinking or relaxing (the perfect remedy to a cold, grey winter day). It has also been my go to coffee house to write when I get inspired. They have two menus (breakfast and lunch) that consist of lite, American style dishes. Hours are morning till early evening, 5pm on weekdays and 6pm on weekends. Breakfast is served all day.
My favorite dish to order is their breakfast burrito: a wheat tortilla filled with eggs, black beans, cheese and salsas. Like all their dishes, the breakfast burrito is flavorful, lite and healthy, and I never feel bogged down after I eat it, which is my #1 indicator of a good meal. The rest of their menu includes sandwiches, soups, wraps and fresh juices, and like all good restaurants in Asheville, plenty of options for all palettes: vegetarian, vegan, gluten free and meat loving.
The Green Sage is just off Pack Square in downtown Asheville. If you're feeling peckish, or slow and in need of a boost, walk into the Green Sage. You will not be disappointed.
Come stay with us at Zen Asheville Inn & Spa Retreat, then take a walk downtown for some fantastic shopping and stop into Green Sage Cafe for a pick-me-up coffee and snack.