January 16, 2015
Rosetta's Kitchen – Vegan Hot Spot in Downtown Asheville
Posted by: Doniel Winter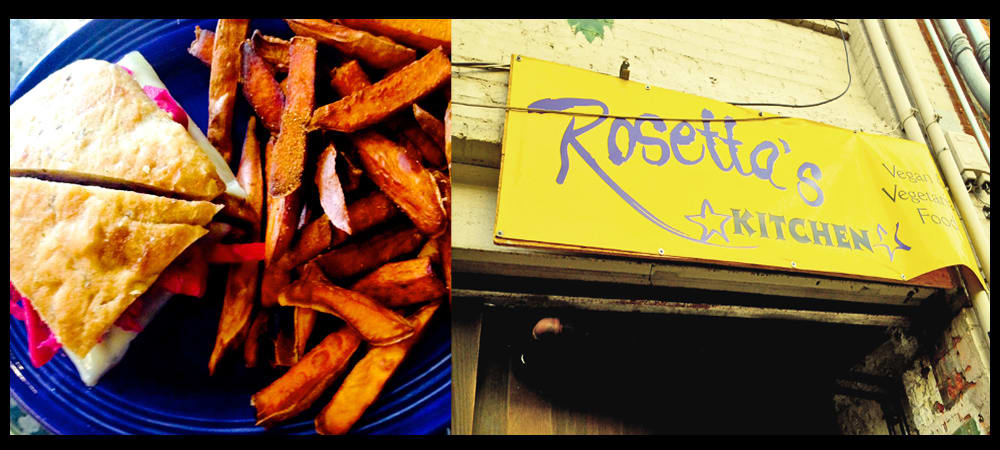 At the top of Lexington Street in downtown Asheville is Rosetta's Kitchen, a local favorite, and one of the first restaurants in Asheville to offer Vegan fare. We've been going to Rosetta's since we first moved to Asheville, over seventeen years ago, and the food has been consistently good and satisfying.
My favorite menu item, hands down, is the Tempeh Rueben ($10). What a treat! The tempeh is locally made by Smiling Hara Tempeh and the purple sauerkraut is made in-house. Your choices for sides are chips or coleslaw but for an extra dollar you can have fries or sweet potato fries. I recommend the sweet potato fries with the homemade ketchup mixed with Rosetta's homemade chipotle sauce – Delicious!
Another favorite on the menu is the Coconut Curry Plate: "A coconut curry cream with organic garbanzo beans, organic spinach, organic peas, potatoes and peppers served over brown long-grain rice with a side salad and y our choice of dressing.
Wheat Free" ($10.50).
Rosetta's sits above the Buchi Bar, Rosetta's latest downtown food venture, and Asheville's first Kombucha Bar. Rosetta's food is available downstairs at Buchi as well.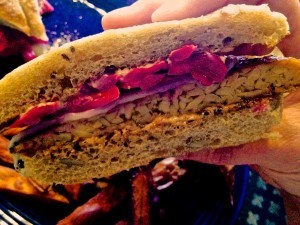 Rosetta's is a 10 minute walk from Zen Asheville Inn & Spa Retreat. Enjoy a couples massage in our Japanese Massage Suite and then take a refreshing walk downtown and treat yourself to a healthy vegetarian lunch at Rosetta's Kitchen.
Our Rating: $ and consistently good
We rate the food in Asheville with the following descriptions: 
"second to none" is the best food in town. 
"consistently good" is pleasurable food that never disappoints. 

"in a pinch" is average and you could be underwhelmed. Cost is rated:
 $ – entrees under $12.
 $$ – entrees between $13 – $25.
 $$$ – entrees above $25.