February 7, 2015
Points of Light, Crystal Store near Downtown Asheville
Posted by: Doniel Winter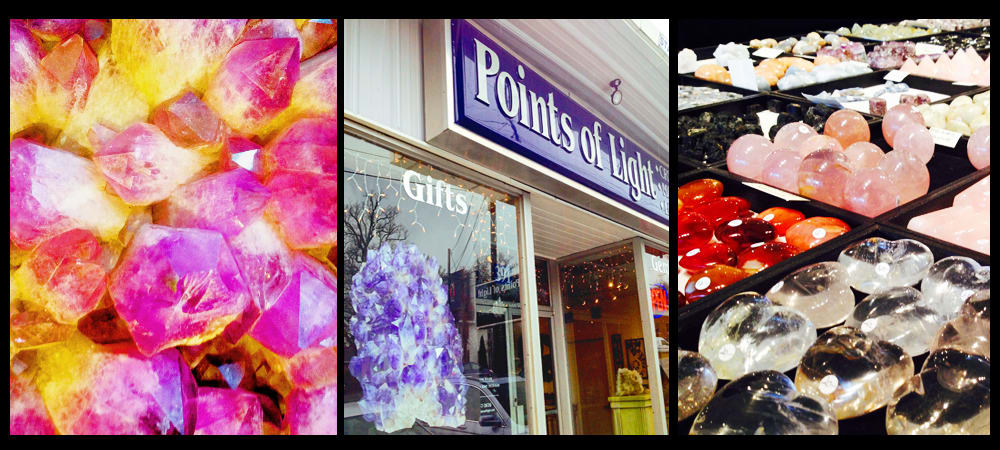 Points of Light is a beautiful shop on Merrimon Avenue that has an amazing inventory of crystals and precious stones from around the world. When you walk into the store you are immediately struck by the beauty of the glass display cases that line the entire store along with the dozens and dozens of open displays that are in the center of the store. To the right of the front door is the largest geod of _____ sparkling with taupe and silver crystalizations. To the left of the door is a wall of book shelves that offer countless titles including: Shungite and The Healing Crystal First Aid Manual.
On our first visit to Points of Light, we were a bit awestruck. After all, it houses a very large amount of high frequency minerals that not only dazzle the eyes, but also create an undeniable atmosphere of well-being and positivity. Reed, the calm and delightful employee that was working at the time, not only contributes to the atmosphere, he also offers what seemed to be an unlimited amount of information to every question we asked. And we asked many. The store owner, Connie Olson, was also very warm and friendly.
"When I was a kid, growing up in the countryside of Tennessee, I would collect rocks. That eventually turned into crystal and precious stones. I've just been picking up rocks since I was a kid. It just grew from there."
Points of Light has been open for five and a half years and it is one of two crystal shops in Asheville proper. We spent a good hour in the store perusing and touching all the different stones and crystals. We asked a lot of questions and ended up choosing a beautiful white iridescent Selenite wand, two Ocean Jasper stones, Pyrite for prosperity, among others. I picked out the cutest turtle made out of Obsidian with a shell made of abalone and turquoise. In the Native American tradition, the Turtle represents Mother earth and reminds us to honor our inner creative source and inspires us to give to others with motherly compassion. Obsidian is formed when lava is cooled very quickly. It is often used as a protection amulet and is fast-acting. Our favorite piece was a large Amethyst geode that took up the entire surface of a coffee table! A very unique piece.
The store is open daily 10:30 to 6:00 and is a 7 minute walk from Zen Asheville Inn & Spa Retreat. Come stay with us, treat yourself to a massage, then take a healthy walk to Points of Light and enjoy all the stunning pieces of Nature's artwork—a Septarian Nodule or perhaps an Amethyst Geod. You deserve it!