October 15, 2014
Market Place, Swanky Downtown Asheville Restaurant
Posted by: Doniel Winter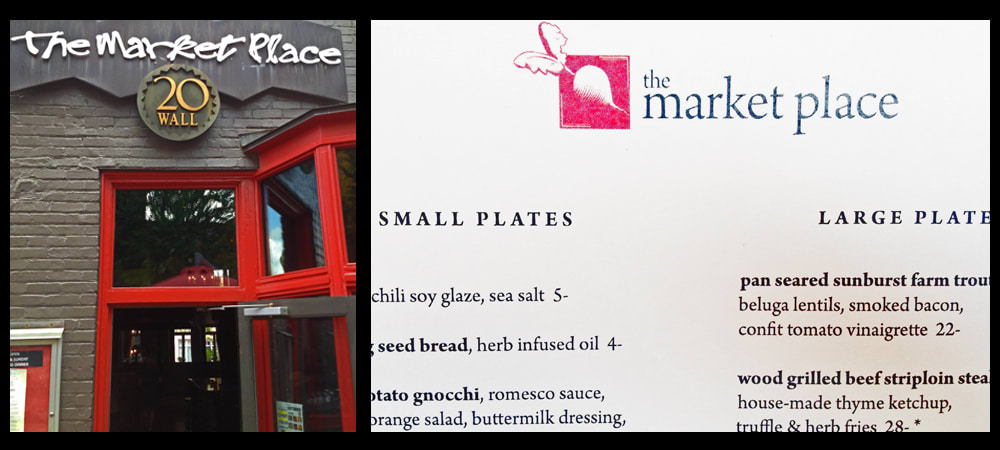 The Market Place Restaurant in downtown Asheville first opened its doors in 1979, making it one of the oldest, continuously operated restaurants in Asheville. It's also the closest thing to a fine dining atmosphere you'll find downtown.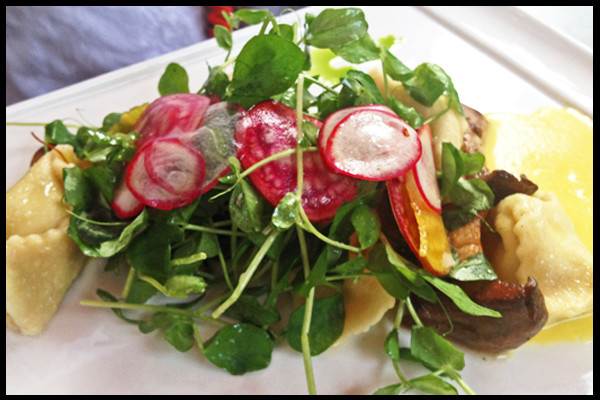 The food at Market Place has always followed the locally sourced, seasonal, farm to table tradition that's so popular these days, and on the restaurant's website you can explore a list of the dozens of farms and food purveyors that contribute to the delicious offerings on the menu.
On our last visit to Market Place, to celebrate out grandmother's 87th birthday, the table shared several small plates and entrees, including two specials of the day, both of which featured freshly harvested mushrooms. My sister ate Hen of the Woods for the first time, as part of a medley of mushrooms including chanterelle and shitake. As a vegetarian turned 'pescatarian', she was puzzled by the name Hen of the Woods— but after making sure she heard the server correctly, that indeed the dish contained no meat, she was delighted by how robust and rich this dish tasted, with its herbed gravy-like sauce and seasoned bread crumbs.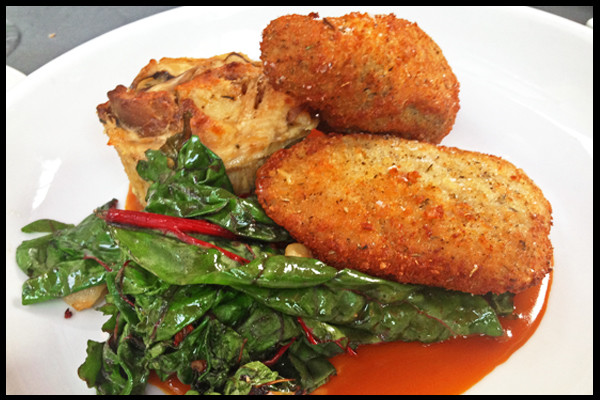 Another favorite of the table was the Heirloom Tomato Salad — small chunks of local tomato served with charred shallots, hand-pulled mozzarella, basil-pesto and aged sherry vinaigrette. Delicious, and it paired wonderfully with the Smoked Potato Gnocchi decorated with an arugula and orange salad with buttermilk dressing.
Finally, the Buttermilk Fried Chicken served with shitake spoonbread, tender swiss chard, roasted garlic, and spicy pan jus, for $22. The shitake spoonbread was so fantastic that it should be a dish on its own. Inquire about it, you won't be disappointed.
Weekends can be quite busy but the restaurant can seat at least 80-100 so it's rare that the wait time is long. If you are staying at Asia Bed and Breakfast Spa you may choose to take a 20 minute walk to Market Place or by car it's 5 minutes away. We recommend making a reservation online. Open Daily for dinner and Weekends for brunch. 20 Wall Street, Asheville. 828-252-4162.
Our Rating: $$ and consistently good
We rate the food in Asheville with the following descriptions: 
"second to none" is the best food in town. 
"consistently good" is pleasurable food that never disappoints. 

"in a pinch" is average and you could be underwhelmed. Cost is rated:
 $ – entrees under $12.
 $$ – entrees between $13 – $25.
 $$$ – entrees above $25.