September 4, 2014
Guilty Pleasure-Asheville's Ultimate Ice Cream
Posted by: Doniel Winter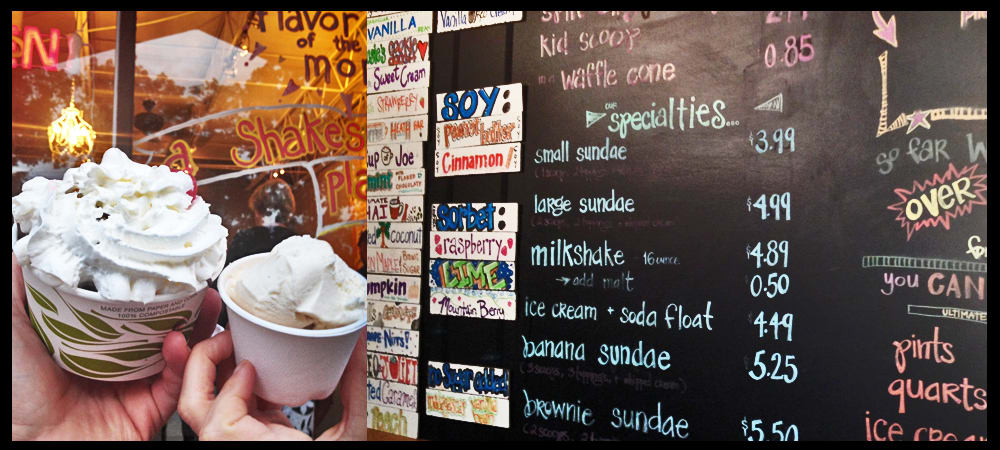 Off downtown Asheville's beaten path, on Charlotte street next door to the Rosebud video store, is Ultimate Ice Cream, Asheville's best independent ice cream shop. And trust us, we've tried them all. Ultimate is my favorite guilty pleasure, and it's quickly becoming an institution in the neighborhood, serving up delicious and unique flavors to a loyal following of locals and downtown restaurants.
Ice cream is made in their small storefront factory on Tunnel Road in East Asheville. The Charlotte Street location opened about two years ago, and fortunately for us it's only a 7 minute walk for our guests at Asia Bed and Breakfast Spa. The store is small and can only accommodate about 8 patrons at at time. But there is seating outside where you can enjoy your treat and compare notes with other ice cream lovers.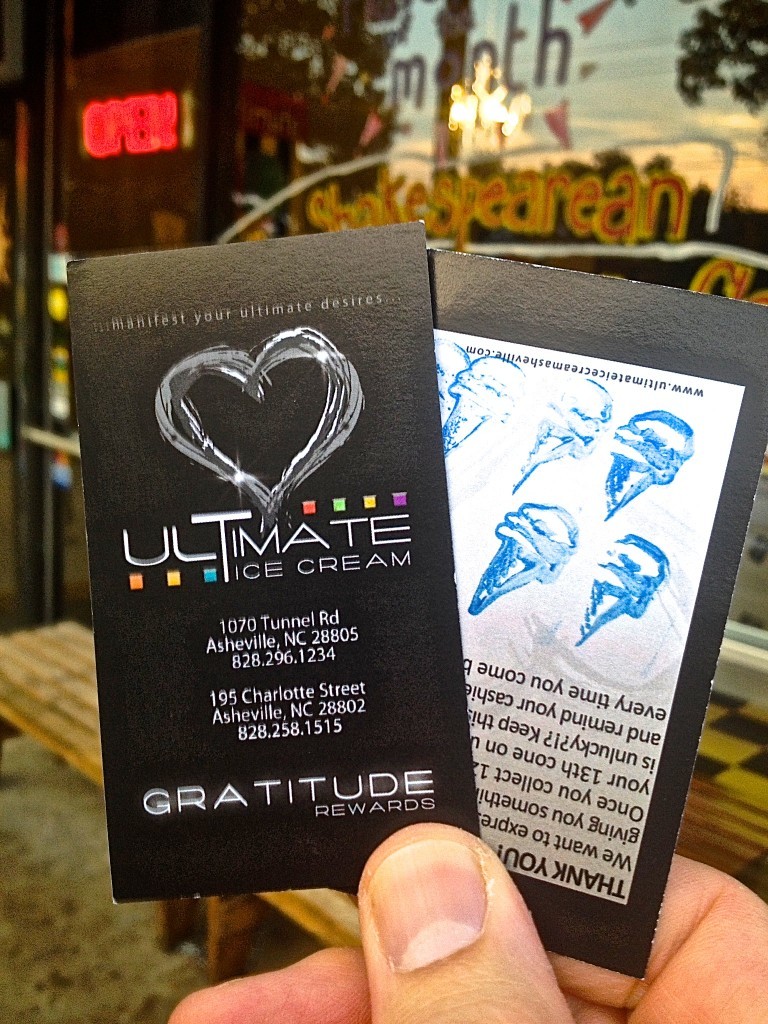 A giant chalk board lists all of Ultimate's offerings, about 25 flavors at any given time, which can change daily. Some of my favorites are Belgium Dark Chocolate, Stout, Mint n Chip, Pistachio, Kahlua Mocha Almond, Coconut, Butterscotch, Chai and Pumpkin. My grandmother's go-to flavor is Mixed Berry. And I am partial to the banana split and the 2 scoop sundae.
There's also a rewards program called the Ultimate Gratitude Card, where every purchase gets you a stamp, and 12 stamps gets you free ice cream. So even if you don't have any immediate plans to visit Ultimate Ice Cream after your visit to Asheville, we would REALLY, REALLY, REALLY appreciate if you picked up a card and a stamp anyway, especially if that card found it's way into our hands. As frequent and loyal customers, Ultimate doesn't mind when we combine the stamps from multiple cards (Thank you very much) ! Book your next Asheville vacation and stay with us at Asia Bed and Breakfast Spa. Our Rating: "second to none" Cost: $ out of $$$