September 30, 2014
First Do-It-Yourself Dogwash in Asheville, Soapy Dog
Posted by: Doniel Winter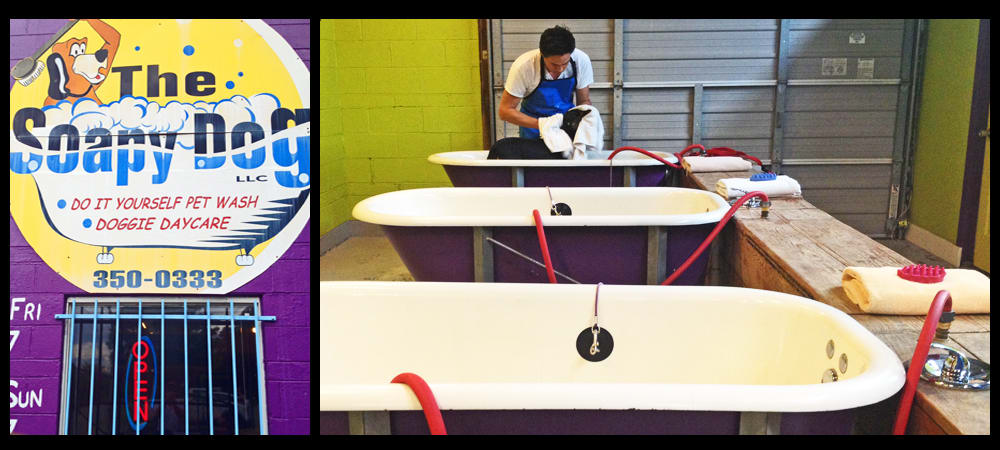 Everyone loves their dog and I'm no different. My dog Ivy can do no wrong, even when she does. Love is blind, and when it comes to our dogs, at times, so are our noses. As summer wanes, so do the hikes to our favorite creeks and waterfalls, along with the free baths that Ivy gets every time we go for a dip and a swim. From April through September Ivy is clean as a whistle. But for the rest of the year she becomes, lovingly, my Smelly Woman.
And so our fall ritual begins – a monthly trip to The Soapy Dog, Asheville's first DIY dog wash, to banish the stink that seems to re-appear on Smelly Woman almost as soon as it disappears. At The Soapy Dog she goes from smelt to svelte in under half an hour. The Soapy Dog has a communal bath house with 3 antique, cast iron tubs that are elevated to save your back. You pay by the pound to wash – Smelly Woman weighs in at $14 – and for that I get a whole bottle of all natural doggy shampoo (there are about a dozen scents to choose from), tools for washing, drying and grooming, and a rubber apron to protect me from the mess.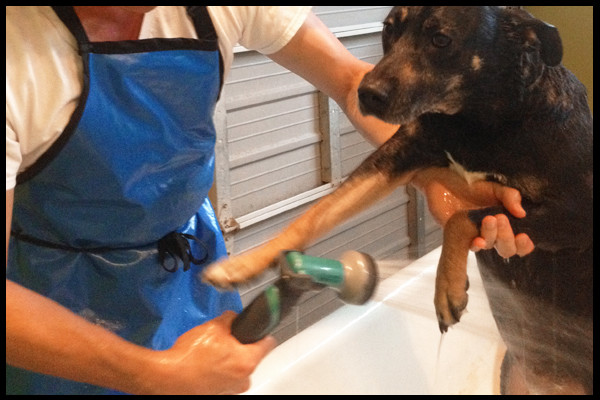 Warm water comes from a garden hose fed by a tank-less, on-demand water heater: clever and good for the environment. When you finish your wash, which takes two passes on the Smelly Woman, you can dry your mutt with towels (they provide two) or with a trip to the blow dry room, where commercial style blowers simply "push" the water off your mutt (like a car wash) vs. evaporating it with hot air. I assume this is safer. I use the two towel method, as I'm not a fan of the occasional dog hair tornado flying around inside the blow dry room – they are quite powerful.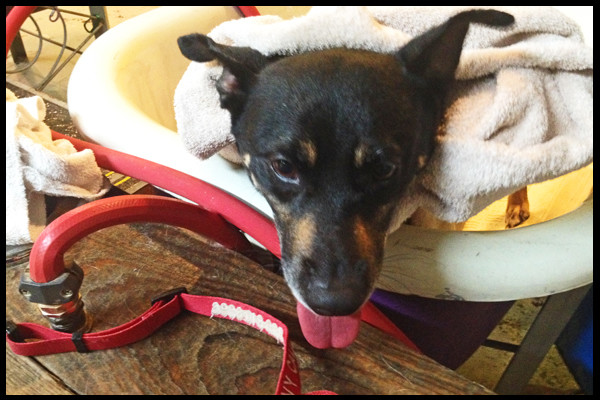 If you're asking what a DIY dog wash has to do with our bed and breakfast, it's this: The Soapy Dog will give you a $1 credit toward a future wash with every towel you donate. And since retire about a dozen towels every 2 months, I anticipate a few of Smelly Woman's baths throughout the year being free! The staff are friendly and very helpful, and if you happen to visit on a day when owner Ronnie brings her mutt Elmo to work, be sure to meet him. I'm sure you'll agree with me – best under bite ever.
The Soapy Dog also has grooming and day care/boarding services. Open Mon-Fri 12-7. Sat & Sun 10-7.
270 Depot St, Asheville, NC 28801 (828) 350-0333