January 29, 2015
Fine Jewelry Handmade in Asheville, Fox and Beaux
Posted by: Doniel Winter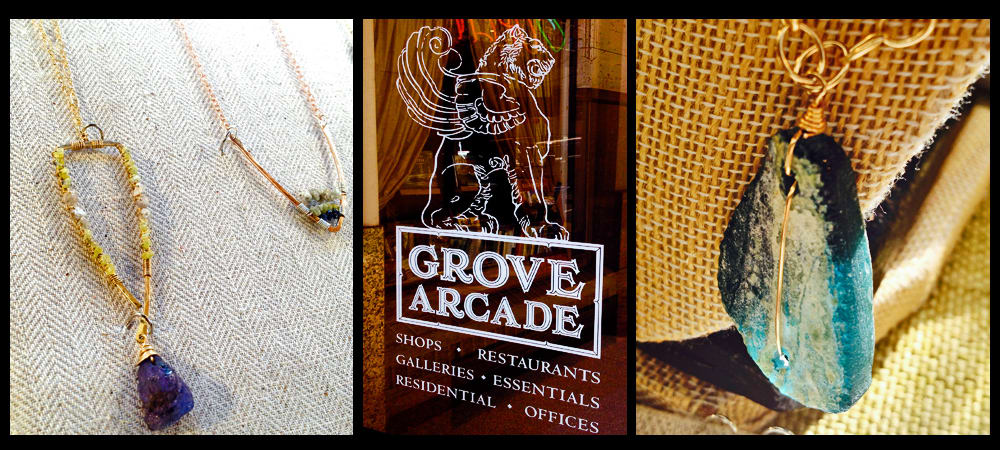 "Catch a leaf in mid air, make a wish, kiss it & toss it into the wind…"
This might give you some idea of where Lauren Moody, owner and creator of Fox and Beaux, is coming from and how she approaches each piece of jewelry she creates. Asheville is a town of artisans and artists. There is more work here than one could see.
But Lauren's work is special. Her style is instantly recognizable, a unique blend of traditional, deco and native influences. Her pieces provoke an unusual synergy of images – the gleaming spire of the Chrysler building and the hand worked contours of an Indian arrowhead. Without question it stands out among the thousands of pieces of handmade art one might encounter during a weekend visit to Asheville.
Lauren operates Fox and Beaux out of a kiosk at the Portico Market, on the south side of the Grove Arcade, alongside about a dozen other kiosks selling everything from T-Shirts to candles. She also has her pieces available online atwww.foxandbeaux.com as well as Etsy.
I am particular about what I like and I did a double take when I passed Lauren's work, my eye was drawn to the beauty of her elegant and unusual pieces, many of which are set with uncut white and black diamonds. It's unusual to find a jeweler that uses uncut gems, and even more rare to find pieces that can successfully enhance the beauty of a stone as it exists in nature.
What inspires you?
Lauren: I'm constantly getting inspiration from my everyday surroundings, from the people I meet and talk with, and from simple things, like a curve in a tree, or color of a unique flower. I try to bring everyday beauty into my designs.
What are some of your most popular pieces right now?
Lauren: I would say my rough cut circle diamond necklace that Nicolette chose and then my hammered line in a horseshoe, a wishbone, and my bar, I would say are my best-selling pieces right now.
Lauren recently had actress, Dylis Croman wear a Beaux's Diamond Necklace in the Bar scene of Musician Seth Walker's music video. And Beaux recently took a trip to one of her favorite places, NYC, to see Dylis perform the lead on Broadway in "Chicago" as Roxy Hart!
Her pieces are works of Art, plain and simple. Sophisticated yet rugged, her work spoke to me. I treated myself to an elegant but simple piece: uncut diamonds, set in a small round circle on a simple gold chain. It was love at first sight. I believe Lauren's work appeals to anyone, even traditionalists. It is also affordable.
Make a reservation with Zen Asheville Inn & Spa Retreat. Enjoy a weekend of relaxation, indulge in our luxurious organic spa treatments, then take a walk downtown and visit Lauren at Fox and Beaux on Haywood Street in downtown. Treat yourself to a well-deserved weekend of pampering and amazing shopping in Asheville.