February 26, 2014
12 Bones Smokehouse- Best Barbecue in Asheville NC
Posted by: Doniel Winter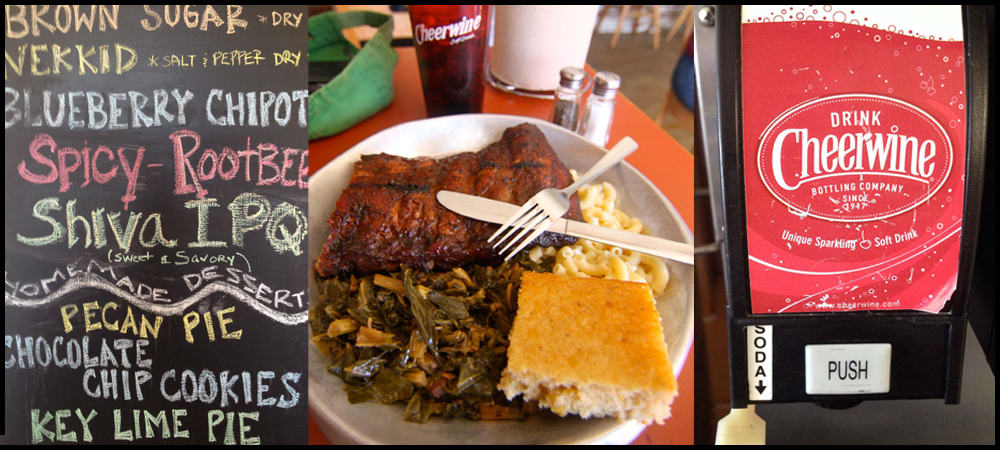 It's been about 2 years since I walked into 12 Bones Smokehouse. And though I love barbecue it's never the first thing I think of when I'm hungry. It's not the second or third either. So I am at 12 Bones Smokehouse today for lunch to remind myself why it is I like eating here, and eating barbecue in general (it's a fun, almost primal eating experience). Foremost, it's the food. 12 Bones is probably the best barbecue in Asheville. Second is the atmosphere. I order the 6 Bones plate, which is a half rack of ribs and two sides with cornbread. You can choose from about 5 different flavors of ribs, and I pick a classic, brown sugar, over the more exotic flavors like Blueberry Chipotle or Shiva IPA. I pick collard greens and mac n cheese for my sides because I love both and make it a point to try them everywhere I go. The 6 Bones plate is $11.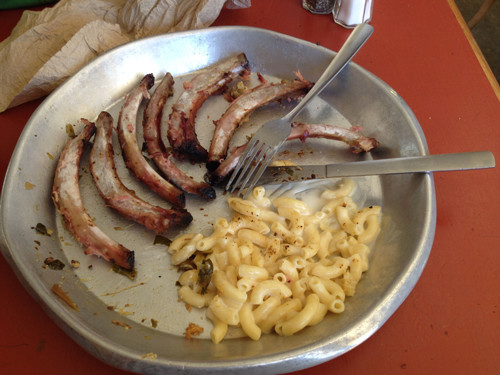 My food is served on a beat up tin plate about a foot in diameter, a plate that no doubt has served a thousand people before me. I love it. My ribs are delicious: flavorful, succulent, meaty and not fatty. To my surprise, the collard greens and cornbread are excellent. The collards are savory, which I prefer to the sour variety which is popular around here, and the cornbread is as moist and light as I've ever had. The mac n' cheese…… meh, nothing special. But the icing on the cake: I get to wash it all down with a couple glasses of Cheerwine.
The Hogzilla is a monster of a sandwich
I just happen to be sitting next to a guy that orders a pulled pork sandwich called the Hogzilla. And it is exactly that, a monster sandwich, piled high with three different kinds of meat: pulled pork, maple smoked bacon, and bratwurst. Hogzilla. Or what about Frankensandwich? It is an impressive mound of food, and the dude assures me he can eat it and remain conscious. I'm not so sure. Side note: the portions are big, bordering on enormous, big enough for two sensible eaters to share. But today I am far from sensible. As good as the food is, what makes 12 Bones worth the trip, to me anyway, is it's a local joint. It's been around for a long time, like the tin plate my food was served on. It's authentic, and I doubt it's changed much since it opened. Authentic is becoming rare in Asheville. Restaurants are opening at a blistering pace as restaurateurs and moneyed investors cash in on Asheville's popularity. More choices are great if you love food, which I do. But sometimes it all feels a little…… overdone. So it's nice to be in a place that hasn't been "designed" to look old and authentic. It just is what it is: picnic tables, tin plates, paper towel rolls, local color and great food. And the occasional visit from The President of the United States of America.
12 Bones Smokehouse is in the River Arts District, just west of downtown and a 5-7 minute drive from our inn. I can't think of a better way to spend a day in Asheville than to eat barbecue at 12 Bones and spend another three hours walking off my meal and looking at art and beautiful objects of art. If you'll be visiting Asheville or if you are due for a well deserved staycation, we hope you'll stay at Asia Bed and Breakfast Spa. Our Rating: "second to none" Cost: $ out of $$$
12 Bones Smokehouse- 5 Riverside Drive, Asheville 28801. 828-606-7880. Monday through Friday 11am to 4pm for dining and take-out. South Asheville location is open Tuesday through Saturday 11am to 4pm for dining and take out, and 4pm to 6pm for take-out only.
We rate the food in Asheville with the following descriptions: "second to none" is the best food in town. "consistently good" is pleasurable food that never disappoints. 
 "in a pinch" is average and you could be underwhelmed. 

Cost is rated: $ – entrees under $12. $$ – entrees between $13 – $25. $$$ – entrees above $25.