December 2, 2014
White Duck Tacos in Asheville's Hot River Arts District
Posted by: Doniel Winter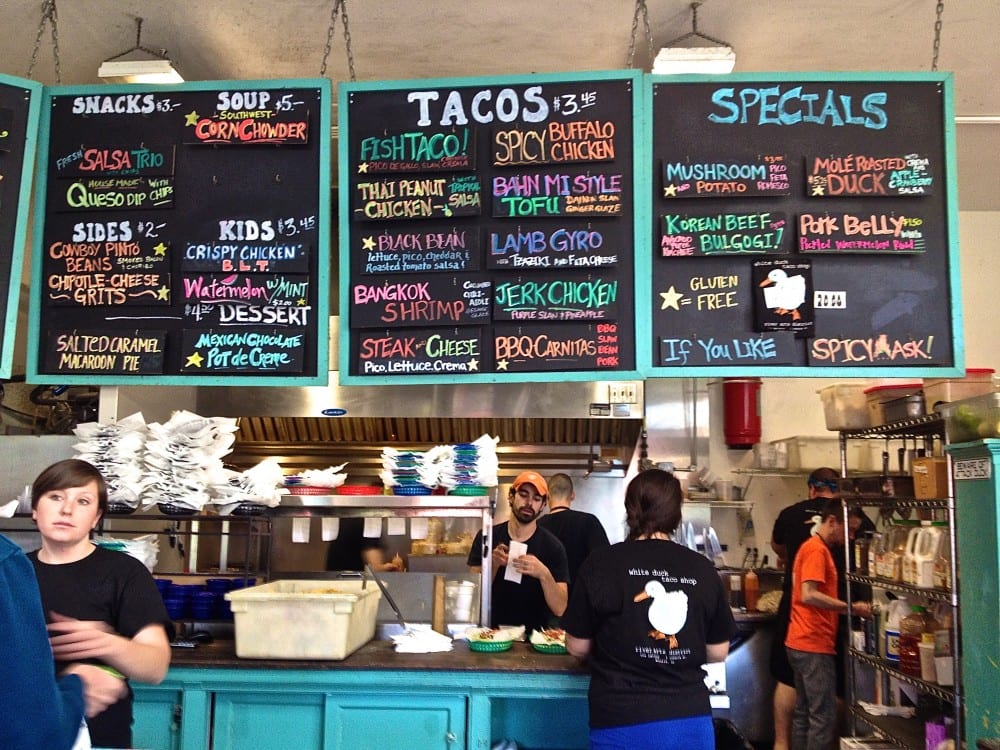 White Duck Taco Shop has a great location in the heart of Asheville's River Arts District, which is 3 minutes from downtown. This restaurant which is housed in the old Hatchery Building on the corner or Roberts St and West Haywood St, has a distinct casual and airy feeling with seamless indoor and outdoor seating.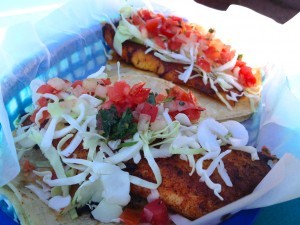 White Duck's blackboard menu changes seasonally and features a plethora of creative tacos like the Maui Mahi (white fish, pineapple slaw, mango and BBQ aioli) and Shrimp & Grits (with cheddar, bacon, and smoked tomato jam). I went for lunch with my grandmother and though it was bustling, we were able to grab a picnic table outside and then we went inside to order at the counter. This time I tried the Baja Taco with cod, pico de gallo, slaw and crema. My grandmother chose the Steak and Cheese with lettuce and pico de gallo and we shared the three salsas and chips (smoked chipotle, green tomatillo, and a creamy red tomato). My tacos were delicious and I can tell you there wasn't much chatter between the two of us for the first few minutes after we were served which I think is always a good sign. My grandmother said her steak and cheese tacos were tasty and filling. Other popular picks include Bangkok Shrimp Taco and BBQ Carnitas. There are several other restaurants in Asheville that serve fish tacos but I appreciate the creative spin that White Duck puts on their dishes.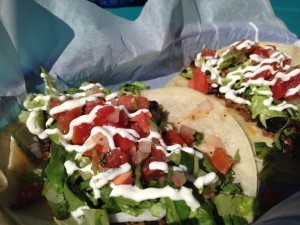 The sun was shining, the air was crisp and the view of the railroad tracks and trees around the river made us feel like we landed in the perfect spot for a warm autumn day lunch. Whenever I come here I always get the feeling that I am in good company, lots of locals that are loyal to the White Duck. Another good sign. The River Arts District is a few minutes drive from Downtown Asheville and offers a sprawling lane of Open Studios where artists work on their pieces and are happy to engage in conversation about their studio and their neighborhood. Ask them for a River Arts District Map, it's handy.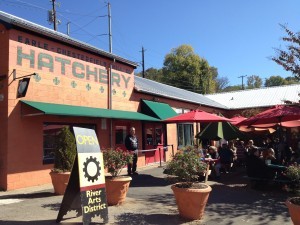 Come stay with us at Asia Bed and Breakfast Spa and it's a seven minute drive to White Duck Taco Shop. Open Monday thru Saturday 11:30-9pm.
Our Rating: $ and consistently good
We rate the food in Asheville with the following descriptions: 
"second to none" is the best food in town. 
"consistently good" is pleasurable food that never disappoints. 

"in a pinch" is average and you could be underwhelmed. Cost is rated:
 $ – entrees under $12.
 $$ – entrees between $13 – $25.
 $$$ – entrees above $25.