December 18, 2014
Savory Vegetarian Strata Recipe
Posted by: Doniel Winter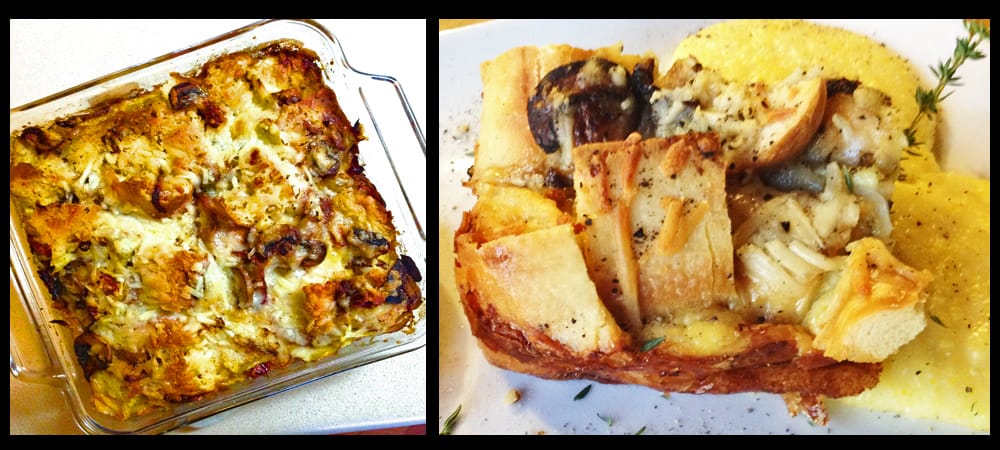 As a follow-up to our blog on our new Grilled Pear with Maple glaze and Brie, we'd like to share our new Savory Vegetarian Strata which completes are latest Asia Bed and Breakfast Spa Breakfast that we've added this season. This sumptuous breakfast is a new favorite amongst our guests. We hope you enjoy it as well.
Serves 6
6 eggs
1 cup milk or half and half
1 tablespoon dijon mustard
1 1/2 teaspoon salt
blend together
1/2 large red onion
8 large brown or white mushrooms
4 artichoke hearts
1 cup extra sharp white cheddar cheese
1/2 french baguette
9×9 glass baking pan
Grease glass baking pan.
Cube baguette into 1-2 inch pieces.
Brown and carmelize onions and mushrooms with olive oil.
Combine all ingredients in glass baking dish.
Refrigerate overnight
Bake at 350 degrees for 45-50 minutes.
We serve our strada on top of polenta and accompany it with Grilled Pears with Maple Glaze and Brie (click for our recipe). The deliciously rich and hearty strada is perfectly offset by the sweetness of the pears and the polenta adds a lovely grounding and mild texture. Try this recipe when you've got company coming or you want to breeze through a Sunday morning brunch with the family. Prepping everything the night before makes it so easy. Come stay with us at Asia Bed and Breakfast Spa and we will make our Savory Vegetarian Strata for you !!!