September 11, 2014
Our German Apple Pancake – Quick and Delicious Breakfast
Posted by: Doniel Winter
As professional breakfast cookers, we Innkeepers are always looking for quick, delicious and visually appealing dishes. And though we tend to make our favorites the most (the "winners") — For us, that's our Organic Fluffy Blue Cornmeal Belgian Waffles and our seasonal vegetable fritatta. There are always three or four other dishes in each category (sweet and savory) that are on deck, ready to shine.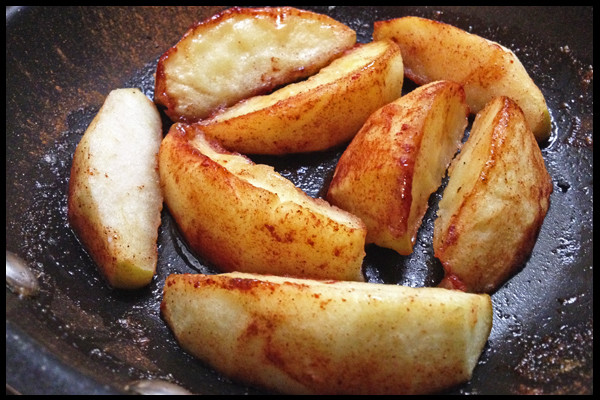 The German Apple Pancake is my favorite dish on deck: simple and tasty with no special tools required. And every time it goes on the plate I am reminded how much I like this dish and how thrilled I am at how easy it is! Prep time, 5 minutes – Cook time, 20 minutes.
Serves four:
2 large green apples, peeled/cored and cut into 1/8 pieces
6 eggs
1/2 cup sugar ( I prefer less sweetness and use just 1/3 cup)
1/3 cup flour
1/2 tsp baking powder
2 Tbsp butter
2 tsp vanilla extract
1/8 tsp salt
1 Tbsp cinnamon and sugar mix
1 cup coffee with cream
1/2 cup fresh whipped cream (cream, vanilla, lemon extract)
Preheat oven to 375 degrees
In a blender mix: eggs, sugar, flour, baking powder, vanilla, salt.
Melt 1 1/2 Tbsp of butter in a 10" skillet over a low flame. Add the apples and dust with the cinnamon/sugar mixture.
Cook apples on a low flame till both sides are soft, but still firm in the very center (5-10 minutes). Pour the eggs mixture into the pan. Continue to cook on a low flame until liquid is firm on the edges of the skillet (about 5 minutes).
Remove skillet from flame and transfer to the oven, bake until you can stick the center with a knife and it comes out clean (about 5 minutes).
Remove from oven, baste the top with remaining butter, and return it to oven on broil. Butter will brown in about a minute.
Don't burn it!
Remove it from the oven and pan, slice and serve. Top with fresh whipped cream.
Because we are always looking to present our dishes in an interesting way, we like to get creative and slice the pieces in different ways. The photos show the pancake divided in half, then sliced into an asymmetrical pie shape. Enjoy the remaining bits! Come and stay with us at Asia Bed and Breakfast Spa and we will make this yummy breakfast for you. And we even serve Breakfast in Bed !
It's a 3 minute drive or a 10 minute walk to downtown Asheville.