December 10, 2014
Grilled Red Pears with Maple Glaze and Brie
Posted by: Doniel Winter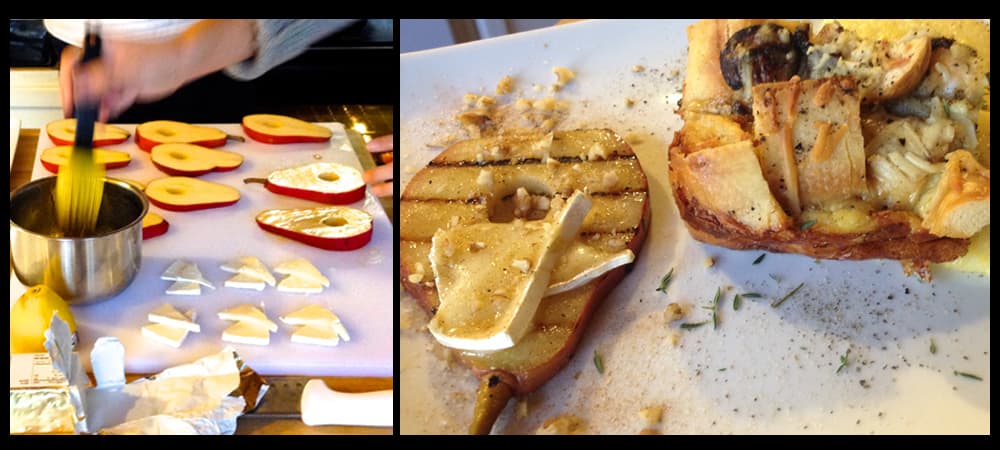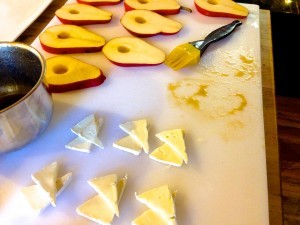 For leaf-changing season this year we have created a new breakfast at Asia Bed and Breakfast Spa and we are very pleased at its reception. We spent a few hours one day playing with all the different ways one can cook pears: roasted, baked, stewed, and grilled. After much deliberation and taste-testing (which we very much enjoyed), we decided that the most delicious pears were the ones we grilled. We also made a special Maple-Syrup glaze for the pears and then we designed a brand new savory strada. The pears are a suitable accompaniment. And the guests LOVE this latest addition to our breakfast repertoire !!! We are excited to share our Grilled Pears with Maple Glaze and Brie. Also, check out this informativesite that explains the positive health benefits of pears, especially the skins. Pears are full of antioxidants and anti-inflammatory agents as well as insulin stabilizing properties. Stay tuned for the Strada Recipe.
2 Red Pears- sliced long-ways
Core pears, slice about 1/4" thick. Three or four whole slices per pear.
1/4 cup walnuts chopped
Half lemon
One tablespoon brown sugar
Pinch sea salt
One teaspoon maple syrup
Two teaspoon olive oil
Cinnamon and White sugar as garnish.
Sliced brie. Make triangles.
Combine brown sugar, sea salt, olive oil, lemon, maple syrup. Mix with spoon until everything dissolves.
Use grill pan: high heat.
Brush glaze on both sides of pear and grill 2-3 minutes on the first side.
Flip pears.
Add sliced triangles of Brie to the top of pear and brush more glaze.
Sprinkle chopped walnuts and cinnamon and sugar.
Makes 4-5 servings. One slice per serving.
Come stay with us over the holidays or in the coming new year and try this scrumptious breakfast ! Asia Bed and Breakfast Spa. 128 Hillside Street, Asheville NC 28801.