October 4, 2014
Easy Meatless Fritatta with Asparagus and 4 Cheeses
Posted by: Doniel Winter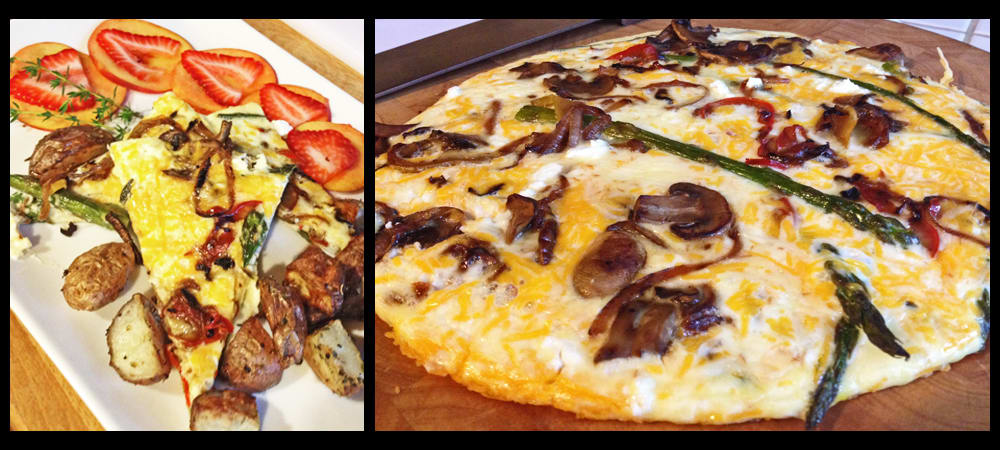 Our Meatless Frittata with Asparagus and 4 Cheeses is a guest favorite. The key is to sautee the sliced vegetables on high heat, to seal in their moisture. The asparagus can be slow cooked. Don't forget to salt them while they are sauteeing to really bring out the flavors.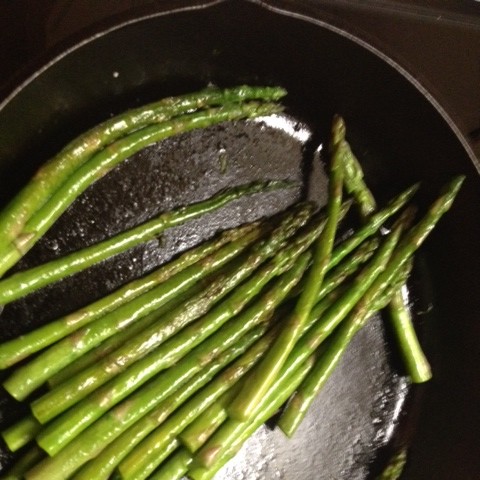 And with all dishes, think about presentation. We like to stack our slices to achieve some height on the plate.
INGREDIENTS:
5 eggs
3/4 cup sharp cheddar cheese – grated fine
1/4 cup smoked gouda cheese – grated fine
1/4 cup feta cheese
grated parmesan cheese
12 skinny asparagus
1/2 red onion, 1/2 red and yellow bell pepper
1 cup sliced mushrooms
1 cup of coffee with cream
Pre-heat oven 350 degrees
Heat one skillet on high heat. Drizzle olive oil so the pan is well covered. Add vegetables and salt, stir to coat with olive oil.
Saute on high heat until veggie start to brown. Reduce to a medium flame. Saute till nice and brown.
Grill the asparagus on low heat in a heavy bottomed pan, cast iron if you have one.
Combine vegetables in one buttered pan on a low flame, use a non stick pan for best results.
Scramble the 5 eggs in a separate bowl and pour into skillet over vegetables.
Add grated cheeses and feta.
Cook for 10 minutes until outer edges get firm. Middle will be like jelly, wet.
Place skillet in oven for approximately 7-10 minutes. Frittata will puff up and will be firm to touch.
Serve hot or at room temperature. Garnish with grated parmesan.
Each pan makes 4 servings.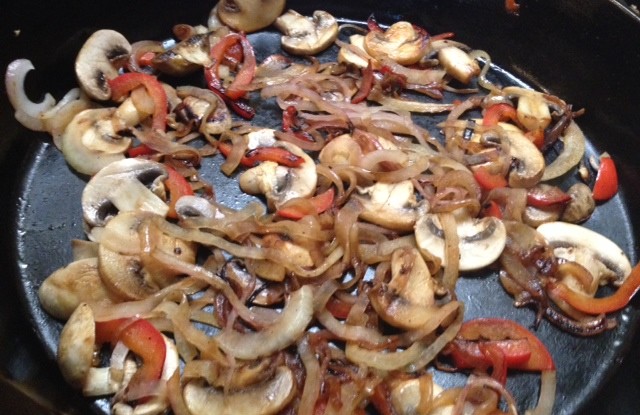 Served with roasted potatoes with Rosemary and Thyme and fresh peaches. Come stay with us and try this delicious breakfast ! Asia Bed and Breakfast Spa. 128 Hillside Street, Asheville NC 28801.