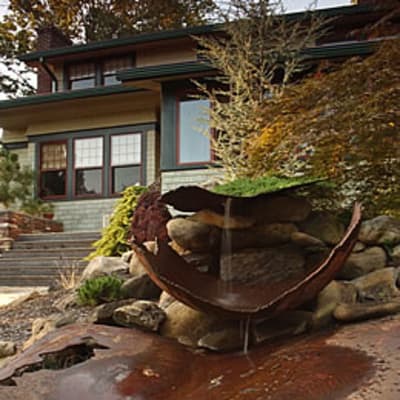 Intentional Spaces
ASIA Bed and Breakfast Spa was envisioned and created to be different from any and every other B&B in Asheville. No other inn in Asheville offers the unique combination of small size and a private spa setting.
Great thought and intention was put into everything you see, touch and sense. The inn is a unique space complemented by expert craftsmanship and Zen-inspired detail. Furniture, fabric, and finish…every element you experience was selected and designed to shift your perspective away from the everyday world.
The Tatami Porch is light drenched and south facing, with vistas of the Japanese Strolling Garden and from fall through spring, the Asheville downtown skyline. Windows open three entire walls of the room to the outside, so you are immersed in a panorama of mountain air, songbirds, and lapping water. The Tatami Porch is a favorite gathering place for breakfast and late-night chats.
The Library is cool and sedate, furnished with generous leather armchairs and an eclectic selection of books and periodicals. Quiet and secluded, it's an ideal spot if you need to catch up on a little work or if you enjoy late-night reading. While here, take a moment to peruse the collection of Japanese garden books that inspired our work.
The Living Room is a natural gathering place and offers views of the gardens. A fireplace crackles and roars on long winter nights as you nest in luxurious, down-filled furnishings.
The Japanese Strolling Garden is a beautiful space that engages your senses. Stroll through specimen conifers and ornamental grasses, bonsai evergreens and exotic annuals. Then pause on a sitting rock and watch cardinals and jays bathe in the artisan-crafted water sculpture.
The Zen Meditation Garden is adjacent to the private sauna courtyard and couples massage suite. Take a moment after your treatments to pause and contemplate. Close your eyes, feel your body decompressing and muscles unwinding. Harmony washes over you.